Start Your Own Private Family Website


…when your family's privacy really matters!

The ultimate interactive family web site for everyone in your family. A safer & more comprehensive alternative
for your family than other social networking sites!



…stay in touch with loved ones through the many interactive features. Professional genealogy features
let you create an online family tree and preserve your family history right within your own private family website.

Fun for Everyone!
...parents, children, grandparents, brothers, sisters,
aunts & uncles, cousins...

Family website demos
Demo 1 - historical &nbsp&nbsp Demo 2 - casual&nbsp&nbsp&nbsp Demo 3 - bold&nbsp&nbsp&nbsp




Brand New Features...
now more interactive and better than ever!


Family website demos
> Demo 1 - historical look
&nbsp> Demo 2 - casual look&nbsp&nbsp&nbsp&nbsp&nbsp
&nbsp> Demo 3 - bold look&nbsp&nbsp&nbsp&nbsp&nbsp&nbsp&nbsp&nbsp&nbsp&nbsp&nbsp

...share photos, online family tree, see what's new, powerful enhanced content viewer, message & chat, share news, family newsletters, online games, preserve your family history and much more on your password protected family web site!

Easy

Affordable

Private

Secure


Use the form below to check the availability of your website address
and learn more about our package.




Our revolutionary family websites will have you and your loved ones
connecting online in no time for years to come

Get everyone in your family connected on your very own private password protected family website from MyGreatBigFamily.com. Your family web site comes preconfigured with everything you need to connect online with your loved ones around the world and preserve your family history. We've made it so easy for you to customize & manage a professional looking website. All you do is add the content. No need to understand web publishing tools or be a web wizard.


"More features and more fun for everyone in your family"

It's more than a website...it's a powerful online program!

Packed with tons of fun interactive features that let your family stay in touch with each other. Share photos & news. Exchange messages. Chat live. Work together to create an online family tree. Explore your roots right in the privacy of your own website. Use our powerful suite of genealogy tools that let you easily navigate through your online family tree, view and print historical reports. A built in search engine let's you search your website for information about places, people and events. Create personal homepages within your website for everyone in just seconds. Organize your family reunion using built-in family reunion organizer features. No software to install! Powerful centralized browser based admin controls let you easily customize and manage every aspect of your website from anywhere.


...password protected and free of commercial advertisements!




One fee covers everyone

There are never any per family member fees. Add as many family members as you want...parents, grandparents, children, siblings, aunts, uncles and cousins can all get in on the fun for one low family fee. Join our growing list of satisfied customers who are finding it quick, easy and surprisingly affordable to get their whole family connected online.


Quite simply.....

The most comprehensive and powerful family website package of its kind for connecting entire families on the market today. Don't spend countless hours or dollars developing your own family website when you can be online and fully operational in as little as 24 hours!



The #1 choice of families everywhere!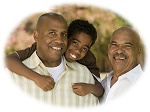 "Our family chose MyGreatBigFamily because many of our family members have real privacy concerns with current social network fads. Your product not only gives us a place to privately connect with family only, but also a place where we can safely preserve, share and pass on our family history to our family and children."

"I must say I am literally dumbfounded at how powerful your product is and how easy it is to use. I know everyone is feeling it was a great investment. I am sure we will be with you for many years to come."

"Thank You! You have created an incredibly powerful and very moving experience that everyone in my family can participate in."

"We looked at other service offerings and found they really don't accomodate multiple families within one web site and that each family needs to purchase a separate web site which can really add up. With your program my parents, brothers, sisters, children, cousins, grandparents, etc can all be a part of one website at no extra cost! They all love being able to have their own homepages where they can share photos and keep everyone up to date in their lives.

"Hands down this is the best family site I have ever seen. Hats off to you guys for a really great product. The genealogy and family explorer features are awesome!"

"We are scattered all over the country and even have family in other countries. What a fabulous way to help us all keep in touch."

"We have never had this kind of opportunity to learn about our family history in one place."

"Other family sites might be flashy but yours provides a rock solid foundation for my whole family that we can build upon."

"Your customer service has been nothing short of outstanding."




Electronic Cigarette Coupons
14 Day Free Trial!


The perfect gift
for your entire family.

Great Interactive Features
:
Unlimited member homepages
Online family tree
- 9+ generation views
- Icon based navigation
- Add predefined facts
- Add custom facts
- Relationship manager
- GEDCOM 5.5 importer

Family Explorer
- Ancestoral tree views
- Descendant tree views
- Hour glass tree views
- Search engine
- Timelines
- Member history reports
- Family reports

Member contact list
Message boards
Live chat room
Photo galleries
Slideshow
Event calendar
Discussion groups
Trivia
Photo gallery creator
Family clubs
Member news / blog
Reunion organizer
What's new
Polls
Online museum
Recipe archive
Did you know
Family story archive
In memory of
Guestbook
Admin control panel
Mass email family
Photo & message screening
Password protection
Assign feature moderators
Optional Euro date format
Hosting and domain name
Store 1000's of photos
& much more...
Recently added features
- Turn any features on / off
- Scheduable Newsletter
- Game Room
- Member Pages Music Jukebox
- EZ Homepage Creator
- GEDCOM Exporter
- Express Photo Uploader

Just released features!
- Photo commenting
- Clickable photo filmstrip
- What's New V2
- Enhanced photo / content viewer

New!
- Let's Talk - interactive
conversation feature


Family website demos
> Demo 1 - historical look
&nbsp> Demo 2 - casual look&nbsp&nbsp&nbsp&nbsp&nbsp
&nbsp> Demo 3 - bold look&nbsp&nbsp&nbsp&nbsp&nbsp&nbsp&nbsp&nbsp
Sample family websites
Get in on the fun! Join our growing list of satisfied customers.


Where present meets past
where young meet old
& everyone is family

bringing the entire family closer together
Start one for
your family today!