Your site comes packed with built-in professional genealogy features sure to thrill the most ardent genealogist in your family.

Building your family tree has never been so easy! You don't have to do the work alone either...the entire family can join in the fun of building your family tree and documenting your family history. Select from pre-defined historical facts (birth, death, immigration, burial location, etc) that you can add to a family member history record or create and add your own custom facts. Document your information sources, add notes and attach images (head stones, wedding pictures, etc). Online information forms can be filled out and submitted by family members that then allow you to simply review the information before it is stored in your family database with a simple click of a button. Family members can submit their own information or information about ancestors & descendants to help you build your family tree and document your family history.

The Relationship Manager lets you quickly & easily establish family member relationships with a few simple clicks that allows every branch of your family tree to be dynamically generated. You simply establish parental relationships and spousal relationships and the program derives the rest.

Our Family Explorer feature provides you with an extensive set of genealogy tools that let you and your family view and easily navigate through your online graphical family tree. View up to 9 generations of your family tree at a time right online within your family site. Intuitive icon navigation system lets you view ancestoral and descendancy relationships and historical reports on family members or family groups. Drill down functionality makes it easy to explore family branches and view historical reports for every member of your family. View graphical ancestoral timelines. Perform sophisticated searches using a powerful built-in search engine that helps you quickly locate family member information, photos or interesting historical facts about your family.

Already have your family tree stored in GEDCOM 5.5 format? Our GEDCOM importer lets you easily import your family tree onto your site.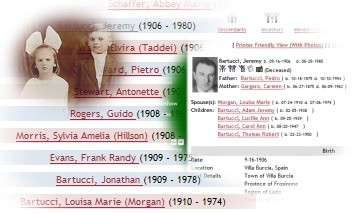 Family Explorer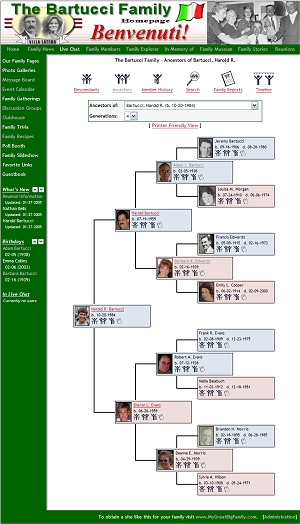 Sample Anscestoral tree
Fun & educational for the whole family!
To review Family Explorer features in more detail:


Check out our live demos

Demo I - historical look &nbsp&nbsp Demo II - casual look&nbsp&nbsp&nbsp